Have Your Strategies and Plans Grown Stale?
Like home-baked bread, strategies deteriorate with time in this fast-paced world. Since they lack expiration dates, astute managers must periodically review and update their strategies and plans to keep them fresh. But how?
To assist you, Terry has developed a ten-step strategic management road map that incorporates the LEAD-THINK-PLAN-ACT themes.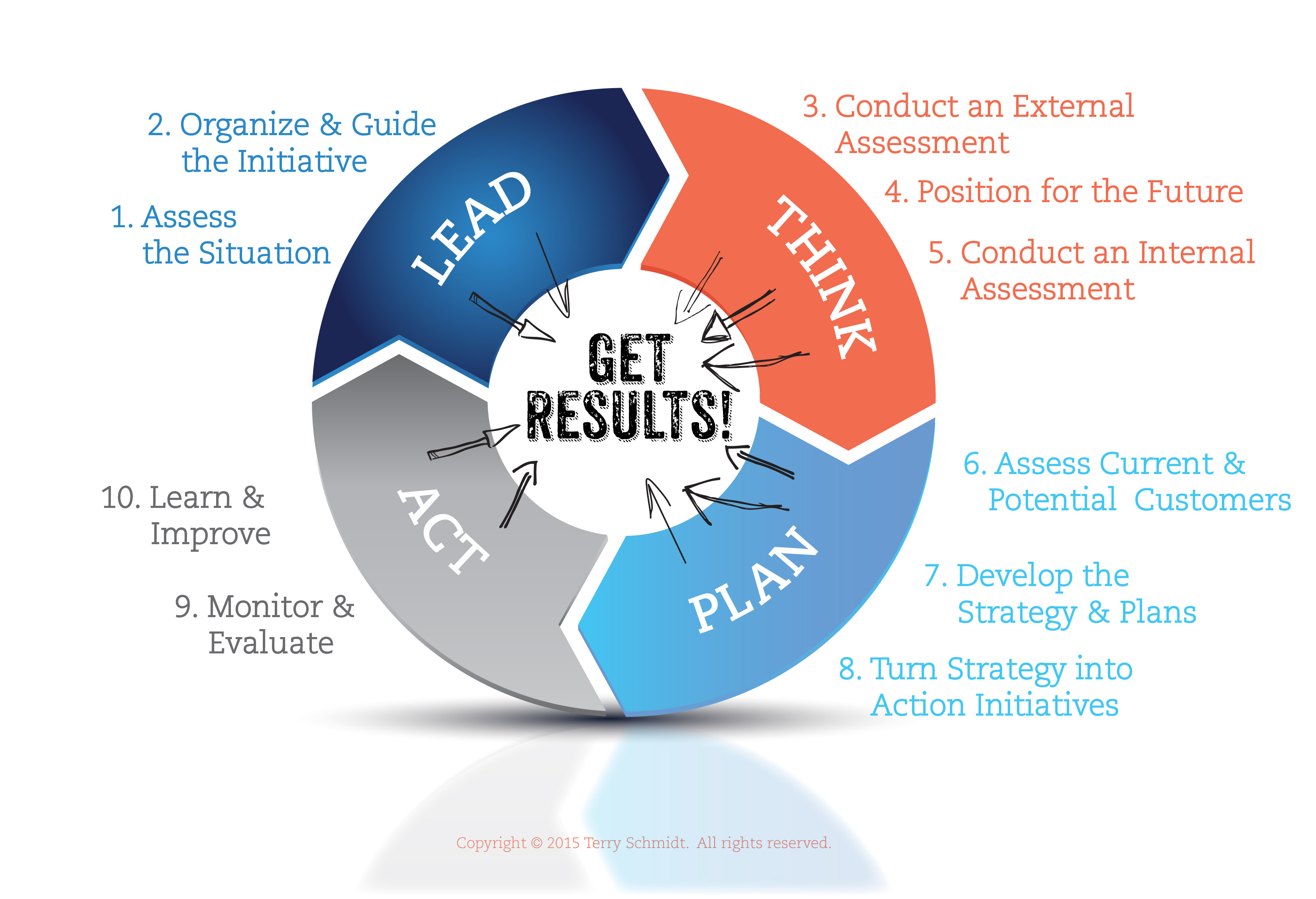 When working with clients, we always walk through the LEAD Steps One and Two together to set the foundation. For clients who need a strategy refresh, we proceed to the THINK Steps Three, Four and Five. If the strategy is reasonably clear, we can begin with the PLAN Steps Six, Seven, and Eight. The ACT Steps Nine and Ten set up the implementation and learning to complete the journey.
Getting the right answers requires asking the right questions. We've developed several questions for each step that are often ignored, or taken for granted. Give yourself the gift of clarity and strategic excellence with Are Your Strategies Growing Stale? Freshen Yours Up.
Start From Wherever You Are Now
Few organizations are blessed with operationally useful plans that neatly align up, down and across. Gaps always exist. The good news is that those gaps can be filled at the team, group, department, business unit, or enterprise level. All that's needed to get started is a committed leader. You!
To begin your Strategy Refresh with momentum, we'll conduct a "Start Smart" day of interactive discussion, training, and action planning with key players. That gets everyone on the same page and produces a clear game plan with objectives, success measures, assumptions, tasks, and responsibilities.
Each client is different and so is the focus.
With the National Training Center, U.S. Department of Energy, we focused on how to upgrade their programs and delivery methods to meet changing needs. Read More
When Tony Robbins hired Terry as his strategist, we focused on how to integrate his nine companies and numerous programs into a coherent delivery system. Read More
When DirecTV aimed to reduce fraud in their dealer and installer network, we developed better operational plans to track leading indicators of fraud. Read More
When we guided Thailand's King Mongkut University of Technology to become the #1 engineering university, faculty engagement was critical. Read More
With Sandia National Laboratory's Energy Center, we organized the long-range R&D program needed to integrate renewables into the national energy grid, and to keep the grid reliable, safe, and free of cyber terrorism. Read More
"You took us from the surreal world to the real world of strategic thinking and planning."
James Whalen, Vice President, DirecTV, Inc. –
Contact Us to discuss how our Strategy Refresh Sessions can dramatically boost your clarity and performance.