I was proud as a pup with a new collar to learn that my book Strategic Project Management Made Simple was named one of the eight best project management books on the market! I'm delighted to be included with other management experts I greatly admire who have developed systems, concepts, and tools that truly help people get outstanding results.
Whether these are indeed the best eight books (out of more than 12,000 with project management in the title) is debatable. What is not debatable is that we professionals and knowledge workers (a term coined by Peter Drucker in the 60s) need better ways to tackle the complex challenges on our plates.
What makes my book unique and highly effective is the core methodology: the Logical Framework Approach. The Logical Framework Approach (LFA) elegantly weaves together best concepts from strategic thinking, project management, risk analysis, and the scientific method into an interactive matrix that flexes and scales to handle just about any problem, project, or opportunity you might face.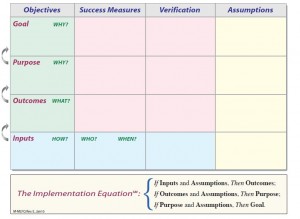 During my career I've taught this approach to over 25,000 people of all backgrounds in 38 countries, who have used it to turn strategy into sound and executable projects in virtually every context.
The "secret sauce" flavoring my approach are four critical strategic questions, answers to which populate the Logical Framework matrix With this approach, teams can develop a shared understanding of complex projects and design a sound action plan quickly and smoothly. . The thinking process is interactive and answers in one cell can affect the information in other cells, much like a Sudoku puzzle.
Teams which use the LFA can develop a shared understanding of complex projects and design a sound solution and action plan quickly and smoothly. This has been my methodological tool of choice for nearly 40 years because it is, well, logical and provides a solution framework that scales and flexes to fit any context.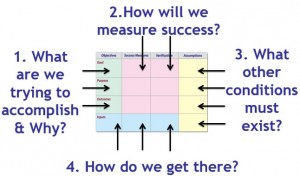 I'll never forget my early experience teaching and applying the LFA. I had just left a cushy strategic planning job with the US Department of Transportation to do third world consulting. My first project was in Bangladesh, one of the poorest nations on the planet, where the income for most people was under a dollar a day and people were starving daily because food was scarce
What a shocking and humbling experience to travel from affluent Washington DC to poverty-stricken Bangladesh. My job was to create a planning capability in the Bangladesh Planning Commission, established to manage projects that would help poor farmers grow more crops to feed a starving nation. For six weeks, I taught Planning Commission staff how to use the Logical Framework, then we used the tool to develop strategies and create project action plans to increase agriculture productivity.
I'll always remember what my Bengali counterpart said "Your system is so clear that everyone from the Minister of Agriculture to the farmer in the field can understand the project. Thank you. This is exactly what we need to solve our problems."
When my client base shifted to business and technology organizations, I was surprised to find that even smart and well-educated professionals also faced difficulty getting their projects off the ground.
That's because we knowledge workers face the same underlying challenges in a vastly different context. How do we get everyone on the same page? How do we translate strategy into executable projects? How do we reduce risk and eliminate problems early? How can we build a strong and effective project team? How can we align projects to the larger strategy? How can we get a fast and effective start and reach goals sooner?
With a few tweaks, the Logical Framework Approach provided the tools they needed. Today, knowledge workers of all types are discovering that this is the "missing ingredient" in their recipe for getting outstanding results as they implement new systems, launch new products, develop talent, solve research problems, improve national security, and tackle other critical projects.
Give it a try — it works!
—
To learn the most powerful concepts I teach my best clients at no charge, sign up for my series of free stimulating content-rich videos. Register here.